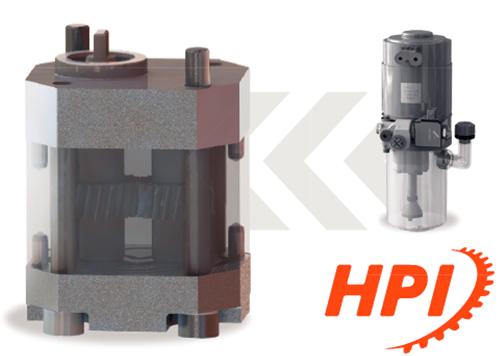 Noise reduction by an average of

-10

dBA
Operating frequency ranges adapted for optimized working conditions for the user
The 22-tooth helical profile on series 0 pumps, unique for that size of pumps
Capacities available are

1 – 1,25 – 1,5 – 1,7 – 2 cc/rev

for operating pressures

from 125 to 250 bar
Noise reduction is indeed becoming the real challenge for today's industrial market. Market competitiveness and new European regulations in the handling sector, particularly for pallet trucks, are such that the suppliers are impelled to develop new technologies meeting increasing requirements from their customers. Acoustic nuisances have several origins: the pump hydraulic pulsations, being propagated through hoses and pipes, and then affecting the truck structure via the frame (structure-borne sound) and the aerial noise (rotation frequency of an electric motor or a pump) which can be contained by an acoustic cover.
Very compact, the Silent Pump reaches amazing results on the reduction of noise pollution.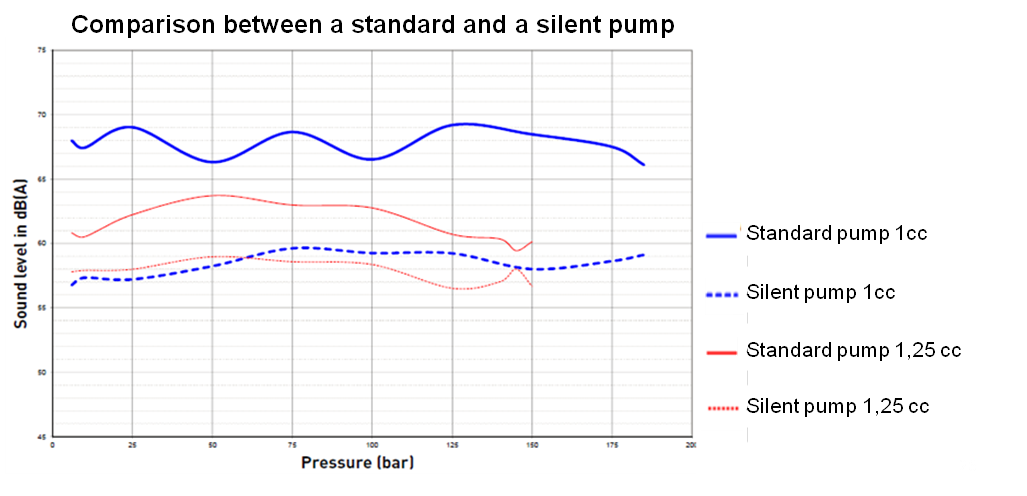 Comparison of 1cc/rev and 1,25cc/rev capacities using standard and silent pinion technology. The tests were realized in JTEKT HPI own anechoic room on a power pack with 1,2kW motor.
We worked closely with the R&D Department of our production site in Blois (France) dedicated to Automotive applications in order to develop a unique profile of side plate, which is the component that allows the noise reduction. We took advantage of the technology developed for steering systems for several years and we adapted it to handling sector applications. We applied the technology, thanks to new tests and research launched, and enhanced it in order to cover a wider range of capacities and pressures in accordance with our customer's requirements.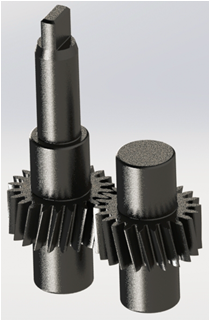 In order to lessen the hydraulic pulsations, we designed a specific helical tooth profile with a suitable propeller angle and increased the number of teeth of the pinions from 12 to 22.
The acoustic results show that the noise level has been reduced by an average of -10 dBA, when compared with a standard external gear pump. The new HPI Silent Pump is also characterized by a much more pleasant sound when in use. Indeed, the operating frequency ranges have been adapted for optimized working conditions for the user. The 22-tooth helical profile on series 0 pumps, unique for that size of pumps, reduces significantly the hydraulic pulsations. The capacities available are 1 – 1,25 – 1,5 – 1,7 – 2 cc/rev for operating pressures from 125 to 250 bar.
All our Silent Pumps are available on our micro power packs 2G and soon available on 3G and 4G.