JTEKT HPI celebrates its 50th anniversary !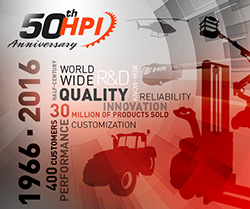 50

years old or should we say half a century!
Nearly 30 million products sold and 400 loyal customers! Surely this is something we can be proud of! 
During all those years with you, we experienced a lot of successes; sometimes we stumbled but always managed to stand up again.
M

r. Roger Laumont created HPI on February 25, 1966. Of course, there can be no physical comparison with Cindy Crawford's body who was born on the same year, but HPI is just as determined and ambitious!  It all started with 3 employees, exceptional courage and a fierce struggle to impose HPI in the industrial world. All those years, we have shown our skills, our knowledge, our technical savoir-faire and our expertise in hydraulics. We have met challenges, trials and have fought ordeals through the years, answering your requests always more demanding.
S

till young but determined to show how to take decisions and be challenging, HPI decides to increase its skills and go to conquer the aeronautics business in the turmoil of 1968. This year 1968 was to be the most difficult year in HPI's life. The social movements in France had wiped out its activity. Banks had planned its liquidation. However, by opening up to new technologically advanced industrial fields and by developing high-tech products, HPI wins new industrial markets and once again demonstrates its admirable technicality
W

e also seized opportunities when they arose and 1985 proved to be a turning point in HPI's history. Do you remember that in 1985 Spain and Portugal joined the EEC, the CD Rom was launched and Alain Prost won the European Grand Prix to become the first French Formula 1 World Champion! To celebrate, HPI innovates in the automotive sector and mount its first motor pumps on some major car manufacturers' vehicles. A key diversification for the company and a real success!
A

fter two oil crisis, a cold war, an economic downturn and of course, Michael Jackson's death, one can say that HPI has matured. In 50 years, the world changed, HPI grew up by your side. And yes, as we were expanding we "colonized" most of rue Condorcet! From 1 to 5 buildings in the same street and from 4 to 280 people. And above all, we put quality and innovation at the heart of our organization. The HPI experts, women and men belonging to the same great team at your service, who implement the most appropriate solutions to your problems. Since the creation of HPI, constant efforts have been made in research and development.
I

n 1994, if some of us keep in mind the opening of the Eurotunnel, we remember the fact that HPI joined Koyo group. The Japanese group Koyo, one of the world leaders in steering systems, became interested in our electric pump technology. Of course we did not miss this opportunity to tackle the automotive market along with them. It is at that time that we completely renovated our site dedicated to the automotive market situated in Blois  with a brand new factory and new production benches
T

hen in 2006, Koyo and Toyoda merged to create JTEKT Corporation. A group even stronger and leader in the industry emerges; to us it means synergies of skills and increased resources to go even further than your expectations.
10 years already that you can enjoy it !
I

f HPI is what it is today, a company who makes the difference with the quality of its products and its services, it is thanks to its team, to the support of reliable business partners and mainly to you! We are fully aware of the opportunities we had and we are proud to have been able to face these challenges. Thank you for your trust over the past years and for the years to come.
50

years or should we say half a century! And still so many projects to carry out together. We are supporting you in all your projects, even the most ambitious!
T

his year we celebrate our

50

years anniversary with our Silent Pump and we invite you to come and see it on our booth in CeMAT where we will be exhibiting. Join us in

Hall 26, N° L23

, and you will see by yourself its performance in operation.